Best-performing PWA
for Magento on Vue.js
StoreFront X will help you speed up to top score in all Lighthouse metrics and easily customize your online shop without unnecessary complications.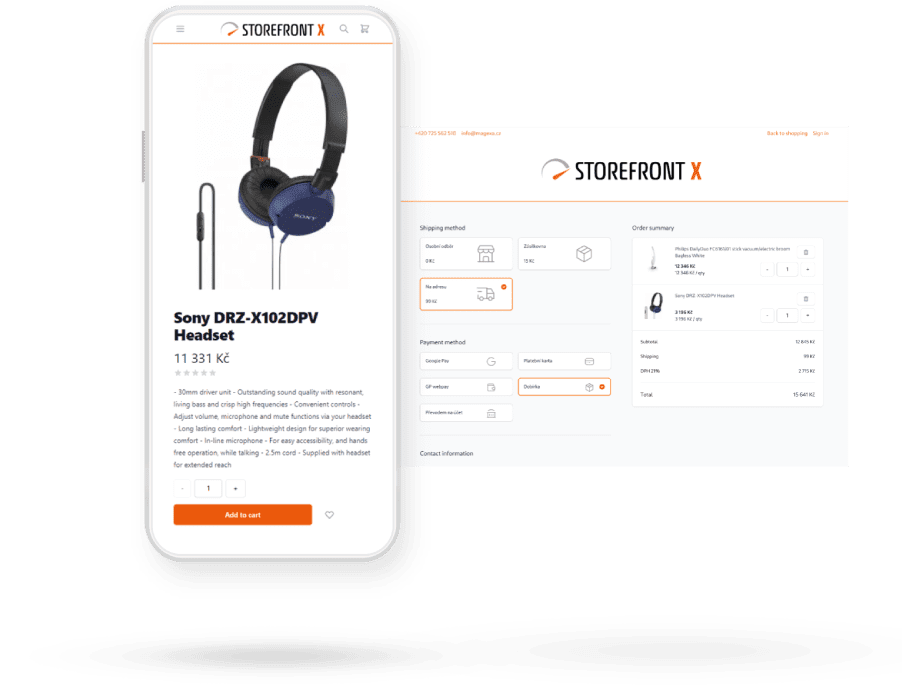 StoreFront X vs. Vue Storefront
StoreFront X beats Vue Storefront in all Lighthouse Performance Score metrics. You can check the performance of your online store by using this tool.
Easily usable, without compromise
You can use most of the Magento features
Without technology debt
Perfect solution for middle-sized and large projects
Easy customization and extension thanks to modular architecture
After the initial query, the browser returns a fully rendered HTML and displays it immediately.
The page will load very quickly.
StoreFront X saves time and (earns) money
✔ StoreFront X is built from the basics for Magento and therefore is more efficient.
✔ StoreFront X is developed in vue.js, which is friendly for developers.
✔ Thanks to full SSR and adaption for Web Vitals improves SEO and conversion rate.
✔ Is based on a simple modular architecture with a small core and additional modules.
✔ As well as Magento offers absolute freedom to modify almost any part.
Simple architecture and infrastructure
StoreFront X is from the beginning designed to be easily editable and high-performing at the same time. Therefore, its architecture is modular – it consists of a very small core and additional modules for particular functionalities. A great advantage of this type of architecture is its positive effect on performance, one of the most important factors, which every operator of an online shop should follow.
StoreFront X is primarily built on integration with Magento and therefore is the whole infrastructure easier and cheaper to maintain than an infrastructure of generic solutions. There is no need for middleware, which in case of integration on one specific platform becomes useless.